Replacing lost or missing teeth has substantial benefits for your health and appearance. A complete or full denture replaces the natural teeth and provides support for the cheeks and lips. Without this support, sagging facial muscles can make a person appear older and reduce their ability to eat and speak.
A Denture is an appliance which is worn to replace lost or missing teeth to enable you to enjoy a healthy diet and smile with confidence.
Partial Dentures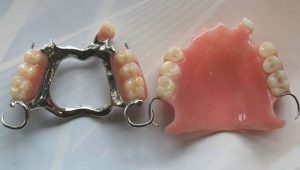 When not all teeth are missing, partial dentures are a way to restore function and aesthetics. There are two types of partial denture. Dentures are commonly made of either Acrylic or Metal Alloy, usually Cobalt Chrome. Both have pros and cons but overall, Cobalt Chrome Dentures are the preferred option as they are both strong and light, aesthetically pleasing and can be more comfortable. Dr. O'Shaughnessy will be able to discuss the pros and cons of both with you when deciding on the best option for your mouth.
Full Dentures
Dentures for replacing a full set of teeth are called full dentures. To replace teeth in the upper jaw, these dentures include a flesh-coloured acrylic base that covers the gums and the roof of the mouth, allowing an entire set of false teeth to sit firmly.
Full dentures for the lower mouth are similar, but the acrylic base is shaped like a horseshoe to avoid covering the tongue. Prior to fitting full dentures, the dentist sometimes removes any remaining teeth. The jawbone reacts to this process slowly, reshaping over time.
For a perfect fit, the dentist may in fact wait sometime before measuring the mouth and starting the process of making the denture. Because the patient has no teeth during this time, however, the dentist may measure the mouth before removing them and fit an immediate replacement to keep him or her comfortable in the interim.
Later, the dentist may reline these immediate dentures to fit the reshaped jawbone.
Caring for Dentures
All types of dentures need regular cleaning and care to avoid future dental health problems and prolong the lives of the dentures themselves. Removing and cleaning your dentures every day using sterodent to maintain the hygiene of the denture. Brushing the tongue, gums and palate everyday with a toothbrush will keep your mouth nice and healthy.
With a wide range of dentures available, you need not suffer difficulty chewing or feel self-conscious about the appearance of your mouth. A dentist can advise you on the best restoration to meet your needs. With careful cleaning and maintenance, your dentures will last for many years.