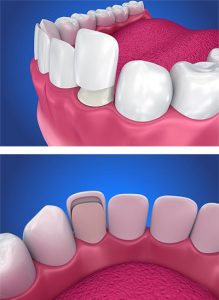 Veneers are ultra-thin, custom-made laminates that are bonded to the surface of the teeth. Although they can be made from many different materials, most often porcelain or ceramic is used because of its durability and aesthetic appearance. Veneers require minimal preparation of the tooth itself as only a very small amount of the enamel needs to be removed (approx. 0.5mm) compared to other cosmetic dental procedures.
The finish of a veneer can make the teeth look natural and healthy.
As with crowns, the treatment involves two or more visits with a dental surgeon. During your first visit the dentist will prepare the teeth, take an impression, match the colour with your own teeth and fit temporary veneers. At your second visit the dentist will fit the custom made veneers and bond them to your prepared teeth to give you the smile you have always wished for.
Here at Kingston Dental, we carefully select the laboratories we partner with to craft our veneers in order to ensure that the best materials are used in creating the most accurate and aesthetically pleasing result for you.